Glenn Rufrano took over the CEO job for a troubled ARCP in April of 2015. ARCP was plagued by the side-effects of the previous regime's "grow at any cost" policies.
Changing the name to VEREIT (VER) did little to separate it from its past. It takes time to reposition a portfolio with nearly $20 billion in assets. Dealing with multiple lawsuits over the previous management's alleged fraud does not help.
For shareholders, the years have not been kind.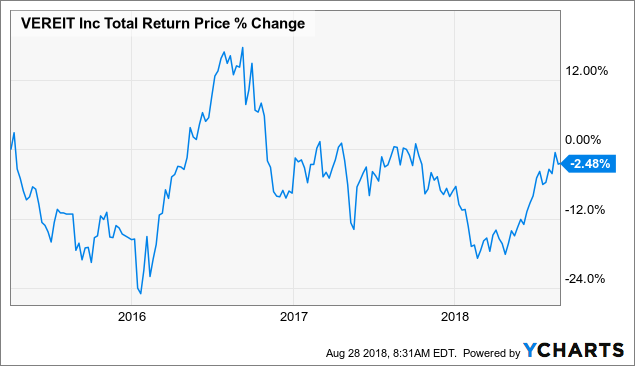 Even including the dividends, investors who have held through the pain have a 2.5% loss since Rufrano took the job. During those three years, VER's triple-net peers have had solid returns, making the opportunity cost of holding VER compared to a competitor very high.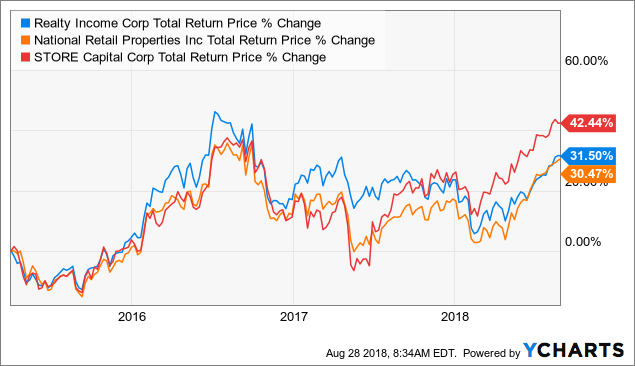 In my mind, this is an illustration of buying into a turn-around story too early. The current regime has done a solid job repairing the company, but VER's past continues to loom.
Deleveraging
One of the most dramatic changes to VER over the last 3 years is substantial deleveraging.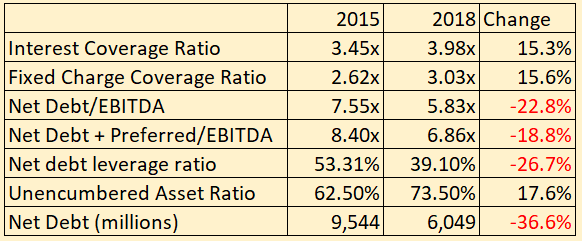 Source: Q1 2015 and Q2 2018 Supplements
Across the board, all of VER's debt metrics have become significantly more conservative although it remains slightly more leveraged than premium peers like Realty Income (O) and National Retail Properties (NNN).
VER experienced credit downgrades following the accounting scandal. For NNN REITs which profit on the spread between their cost of capital and the cap-rates of their properties, the ability or inability to borrow at low rates has a significant impact on their results.
Thanks to the deleveraging efforts, VER has regained their ratings and are currently Baa3 from Moody's, and BBB- from both S&P and Fitch. With VER preparing to become a net buyer instead of a net seller, it will be crucial for them to maintain and improve their ratings.
It is also thanks to these efforts that VER is in a position to minimize the impact of their legal issues. VER was able to pay the $90 million settlement with Vanguard using their revolver. With $1.8 billion in capacity available at the quarter end, VER will have the ability to pay any additional legal settlements with minimal impact on operations.
The improved ratings will also help VER manage their upcoming debt maturities.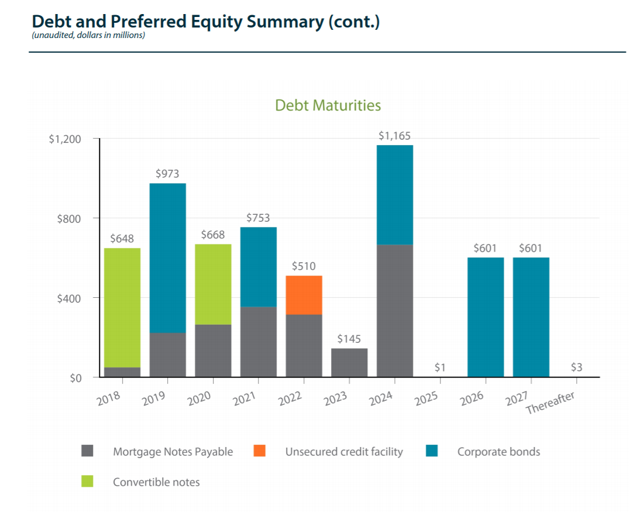 There is a glut of maturities that will need to be refinanced over the next several years.
Efficiency
Another area where VER has made significant improvements is their G&A expenses. In March 2015, the trailing 12-months had G&A expenses of $145 million. Most recently, VER had trailing 12-month G&A expenses of only $63 million, which puts them in the same ballpark of O.
Unfortunately, the benefits of that are being offset by the elevated legal expenses, which for the trailing 12-months were $59.5 million (excluding the $90 million settlement to Vanguard).
As of December 2017, VER was at 330 employees, approximately 100 of which were expected to leave when the Cole Capital sale closed. This compares to the 400 employees employed at the end of 2014.
Today, VER is a much leaner and more efficient company than the past. When the legal troubles are finally behind them, these improvements should have a material impact on cash flow.
The Portfolio
The deleveraging efforts were primarily funded by dispositions of properties. One of the areas the current management team has focused on is reducing their exposure to Red Lobster.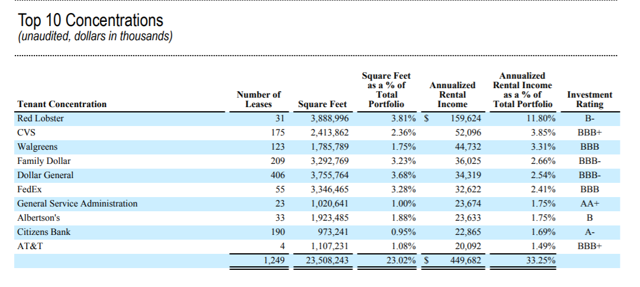 Source: Top 10 Tenants, Q1 2015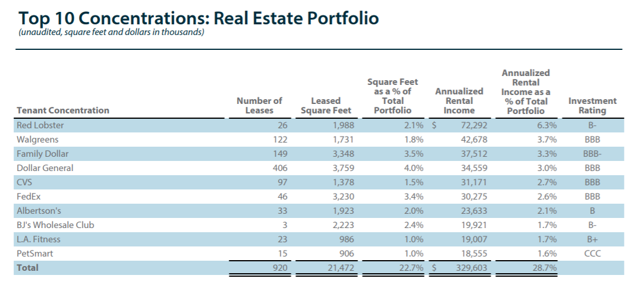 Source: Top 10 Tenants Q2 2018
VER has successfully sold almost 2 million square feet of space leased to Red Lobster. VER expects to sell several more by the end of this year, per Rufrano in the recent conference call,
As you remember, back in 2015, we said portfolio goals, no more than 5% of tenant, 10% in industry, 10% in market, 30%, 40%, investment grade rating and so forth. If you look at all our metrics, which you have in the supplemental, we are pretty close. We are a little out of whack in Red Lobster, but that's coming in very quickly. We sold $58 million of Red Lobsters to-date. We expect to sell between $100 million to $150 million this year. So we will be in the fives, we expect by early next year and down than five by the end of next year. So we are in pretty good shape.
From a diversification standpoint, VER is sitting in a solid position. The two main drawbacks of their portfolio in my eyes is the number of flat leases and the number of leases that are NN as opposed to NNN.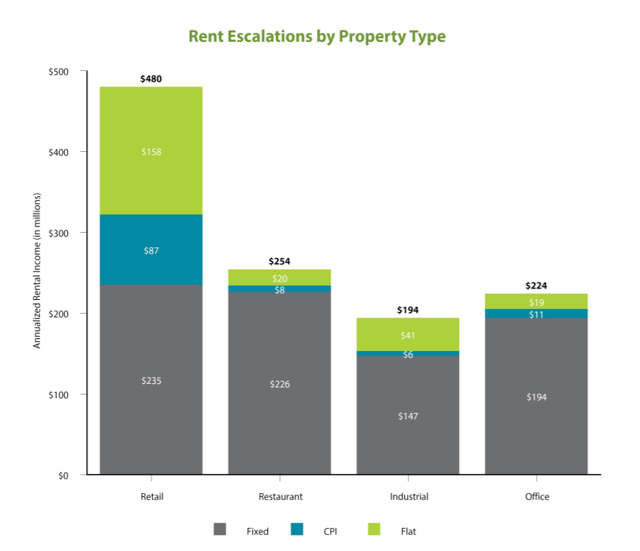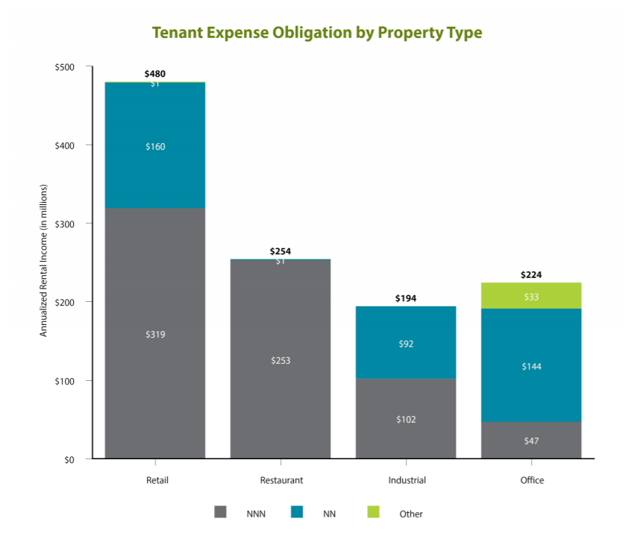 VER's elevated number of flat and NN leases leaves them more negative exposure to inflation than their peers. Flat leases are not completely avoidable, but I would like to see their exposure brought down to 10-12% of their portfolio.
NN leases put greater expense obligations on the landlord than pure NNN leases. Their NN exposure should improve since management indicated that there would be more dispositions from their office portfolio by the end of the year.
The sheer size of their portfolio means it will take many more years of acquisitions, renegotiations, and dispositions to significantly change these numbers.
Legal Issues
With one settlement behind them, VER is slowly making progress. VER is currently negotiating a settlement to avoid a civil lawsuit from the SEC and the SEC has already stated that they do not intend to pursue a criminal lawsuit.
The largest lawsuit is the class-action filed in the Southern District of New York. That lawsuit has a trial scheduled for September 9th, 2019. While it is always possible for a trial to be delayed several times, there is some hope that a settlement will be reached by the 3rd quarter of next year.
Any settlement should be a positive for VER by removing the fear, uncertainty, and doubt. Additionally, VER will immediately realize the cash flow benefits of reduced legal expenses, slightly offset by whatever interest or dilution costs associated with the actual payment.
For 2019, investors should be prepared for legal costs to remain elevated and VER will remain conservative with their dividend level. A raise is not in the cards unless their taxable income is high enough to require it, and I do not believe it will be.
Conclusion
There is no doubt that Rufrano and his team have done an excellent job improving the risk profile of VER. They have significantly deleveraged the company, saving the credit rating and made it capable of absorbing the inevitable hit from the lawsuits.
The portfolio is moderately improved, with better diversification. However, it continues to face challenges in having a high number of flat and NN leases. This portfolio is not comparable in quality to premium peers O or NNN.
With over 4,000 properties, it will take a considerable amount of time to really make those types of changes. VER will be dealing with legacy ARCP portfolio decisions for decades.
VER expects to increase their acquisition levels at the end of this year and to be net buyers next year as well. Their choices now will provide us a look into what the future VER will look like.
With an improved balance sheet and the end of litigation in sight, VER is in a much better position than it was 3 years ago. Anyone looking at an investment today should be prepared to be patient, as growth is more likely to come late 2019 or even 2020.
Disclosure: I am/we are long O.
I wrote this article myself, and it expresses my own opinions. I am not receiving compensation for it (other than from Seeking Alpha). I have no business relationship with any company whose stock is mentioned in this article.